As a remote worker, it's easy to get stuck in a routine of working at home day after day and feeling like your work product and thought patterns have become as stagnant as the indoor air in your all-too-familiar apartment.
The fact is, sometimes we need to change up the scenery to stimulate our brains and reignite the spark in our professional and/or academic lives.
As an Amerian expatriate in Istanbul, I had long been daydreaming about taking my laptop aboard one of the many ferries that transverse the Bosporus and landing at different ports to work at cafes with a view of the strait.
But as the days came and went, I procrastinated embarking on that workday adventure until a kindred spirit turned the idea into a plan of action with an itinerary fit to inspire the most burnt-out worker or student.
Here's Part 1 of what I hope will be a series of Bosporus itineraries designed to inspire you, whether you're a remote worker or just want to head out to explore. Note: This itinerary is detailed but subject to change based on seasonal changes in ferry schedules. Internet was not reliable at all of our destinations, so I recommend having a mobile hotspot on hand for your journey.
Now, all aboard to explore the coastal ports of the dazzling turquoise ribbon of water that marks the boundary between Europe and Asia in Istanbul.
From the European side, start your journey from Karaköy or Beşiktaş ferry terminal (iskele) and take the short ferry ride to Üsküdar.
You can find the ferry schedules on the Şehir Hatlari website.
Board the Anadolu Kavaği ferry line at 11:45 a.m. and begin your journey to our first stop, Çengelköy.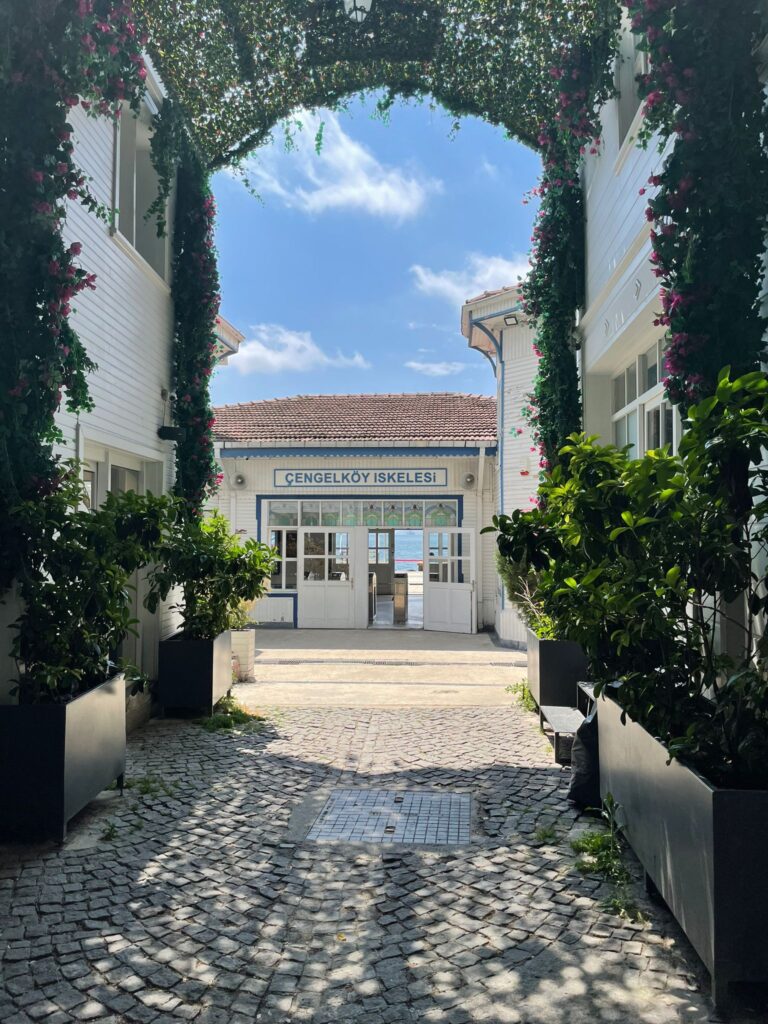 No. 1 Çengelköy, 12:10 p.m.-2:10 p.m.
As you float into the Çengelköy harbor, old Ottoman mansions punctuate the hillsides. As an incorporated part of Istanbul, Çengelköy has acquired the hurried, overcrowded feel of the metropolis and some of the accompanying nondescript coffee shops and restaurants. While the food and beverages at these establishments are generally mediocre and overpriced, you are, in fact, paying for the sublime view. We settled in on the upper floor of the MAA Lounge Cafe Restaurant, which affords a panoramic view of the harbor and a music playlist that's not quite in harmony with the scenery.
Head out in time to catch the 2:10 p.m. ferry at the Çengelköy ferry terminal, where you arrived, to proceed to our second stop…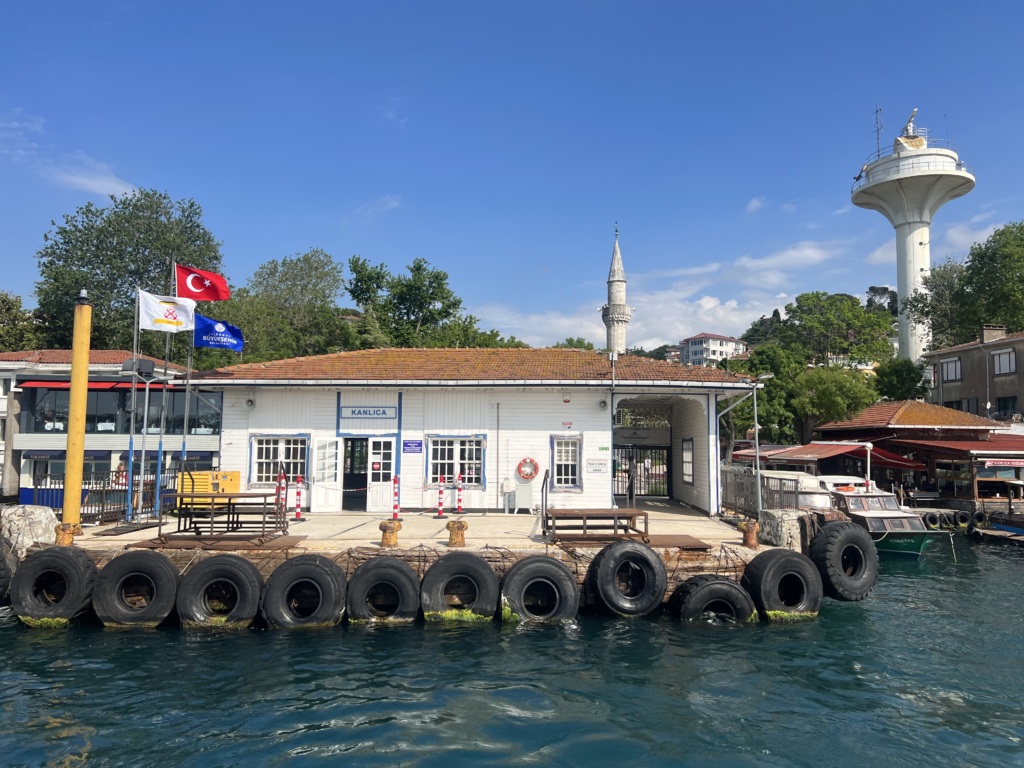 No. 2 Kanlıca, 2:35 p.m.-4:20 p.m.
Known for its special yogurt sweetened with finely granulated sugar, Kanlıca is a portal to a foregone time before tourists and migration fattened the city to a chaotic 20 million. The pier-side neighborhood still preserves its village feel.
On a weekday afternoon, you can forget Istanbul's exhausting crowds, slip into the wooden cafe (Kanlica İsmailağa) on the water's edge and take in stunning views of Rumeli Castle and other remnants of Istanbul's multilayered history.
Fishermen can actually pull up their row boats to the cafe's windows, giving the sensation that you also are adrift. And they have been pulling up to this charming cafe since 1870.
Inside, you can see a display of photographs of famous writers, poets, journalists, and politicians who have visited the coffee house over the decades.
The nostalgic wooden building also has been featured in Turkish films and TV shows.
The food and beverages at Kanlıca İsmailağa were tasty and reasonably priced (We recommend the spinach gözleme with Turkish tea).
You also can try Kanlıca yogurt while you're there – an activity we saved for a future adventure when we have a more active sweet tooth.
The name of the cafe isn't prominent on the exterior, so instead look for the name, Asırlık Kanlıca Yoğurdu, on the burgundy-hued canvas canopy outside the building.
Continue to our final office depot along the Bosporus by returning to the Kanlıca ferry terminal and catching the 4:20 p.m. ferry on the İstinye/Çengelköy line to our third stop.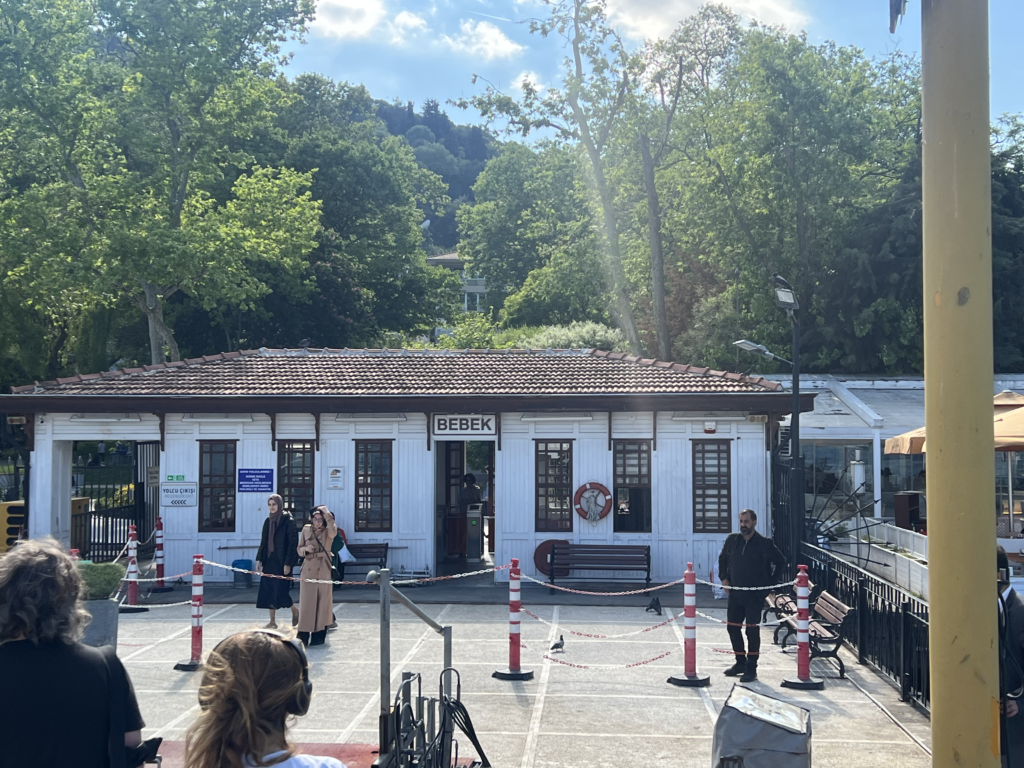 No. 3 Bebek, 4:40 p.m.-6:20 p.m.
Bebek is a posh Istanbul neighborhood with peaceful views of the Bosporus. Characterized by plenty of swanky restaurants and plastic surgery on ostentatious display, you can find a more relaxed, modest, and family-owned hangout right on the water at Bebek Kahve.
On any given day, you're likely to see a Turk of minor or major fame in Bebek. On this particular day, we saw retired professional basketball player İbrahim Kutluay playing backgammon with a friend at Bebek Kahve.
The current owner's grandfather, Ali Osman, started the coffee shop in 1945 when you were more likely to see fishermen, farmers, or stockmen than celebrities and Turks radiating wealth. The villagers used to transport vegetables, coal, and drinking water on boats from the Asian side, according to the coffee shop's website.
Pondering that history, I sipped tea and Turkish coffee while finishing up a blog post. Then, we took a break and also played a game of backgammon. Boards are for hire at the cafe.
To close out your workday, catch the 6:20 p.m. ferry on the İstinye/Çengelköy line back to Çengelköy and then connect on the Anadolukavağı-Üsküdar line at 6:40 p.m. from Çengelköy to Üsküdar.
Arrive back in Üsküdar at 7:05 p.m. and proceed to whichever continent you call home.